Effectively managing your content is the key to success in blogging. It is good to create several posts with the quality content that drives traffic, but the more important is to show your visitors your best piece of work. The more posts you have on your blog, the harder it is for users to read your top popular posts or the posts you want your readers to glance at. 
There was a time when you needed to learn coding to add each small feature to your website, but now as you know, this takes almost zero effort with WordPress and the popular post plugin. If you search for popular post plugins, your search engine will flood as there are so many out there. 
Don't you worry, we know some of you want the best one in your budget, or some are looking for a free post plugin for their WordPress site. So in this article, we will discuss the 10 Best Popular Posts Plugins for WordPress (Compared) that will make your popular posts visible to your readers and give them direction about where to start reading.
Benefits Of Using Popular Post Plugins For WordPress.
It guides your visitors to find and reach your best content.
Keep high-performing posts for a long time.
Get good conversions, which bring you sales.
Easy internal linking to your other article.
Let us begin a comparison of 10 Best Popular Posts Plugins for WordPress and find out the most popular post plugin for your WordPress site.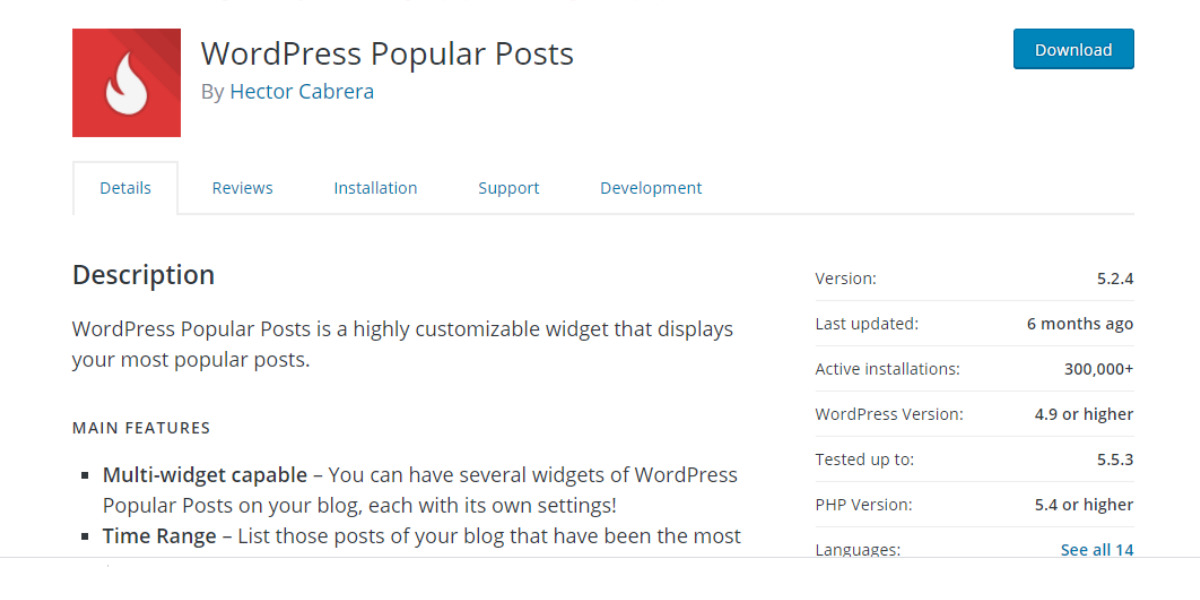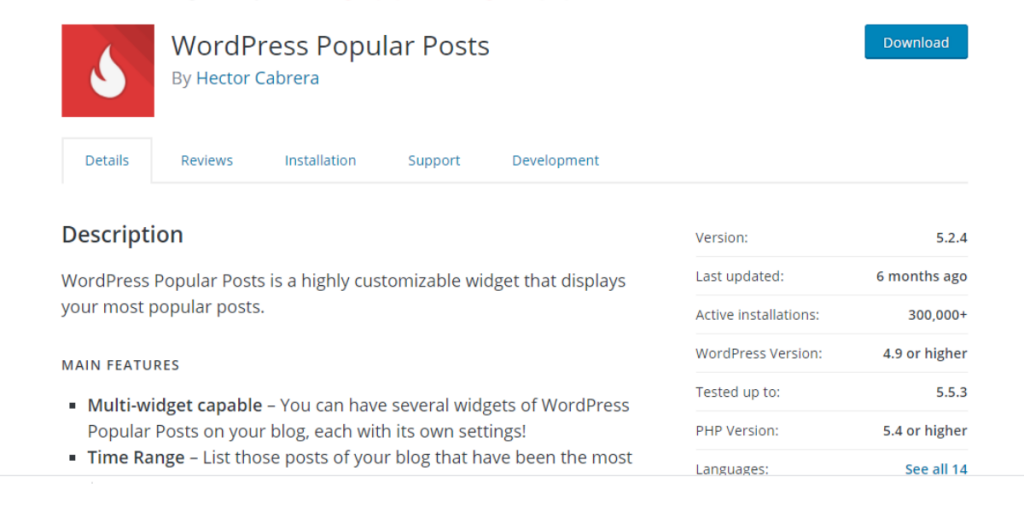 One of the creative plugins of WordPress is popular post-work as it is named. It is super easy to use and added to your site as a widget with lots of customization options to display your popular post. You can control your popular posts based on the average view and number of comments. 
It also allows you to create multiple separate lists where you can create a list of your recent popular and old popular posts. Moreover, it displays the number of views and comments in each position and allows you to monitor comments in the stats section. 
The fantastic custom themes and style make your popular post section look attractive and well explained. Overall, If you just started with WordPress, it is a great popular post plugin that provides many customization features.
How It Works
Same as other plugins, add it to your WordPress site as a widget. You need to customize some settings like several post displays based on time range, view, and type. 
You can also use shortcode or PHP functions to show your popular posts anywhere on the website. Now you are all set and can publish the post along with your best content.
Pros
Cons

Support for custom post types
Easy to add multiple section
Attractive themes and styles
Advance caching features
Embed popular posts in your web app

It Counts view from installation only
Jetpack (Free with core features, Paid plan starts from $20)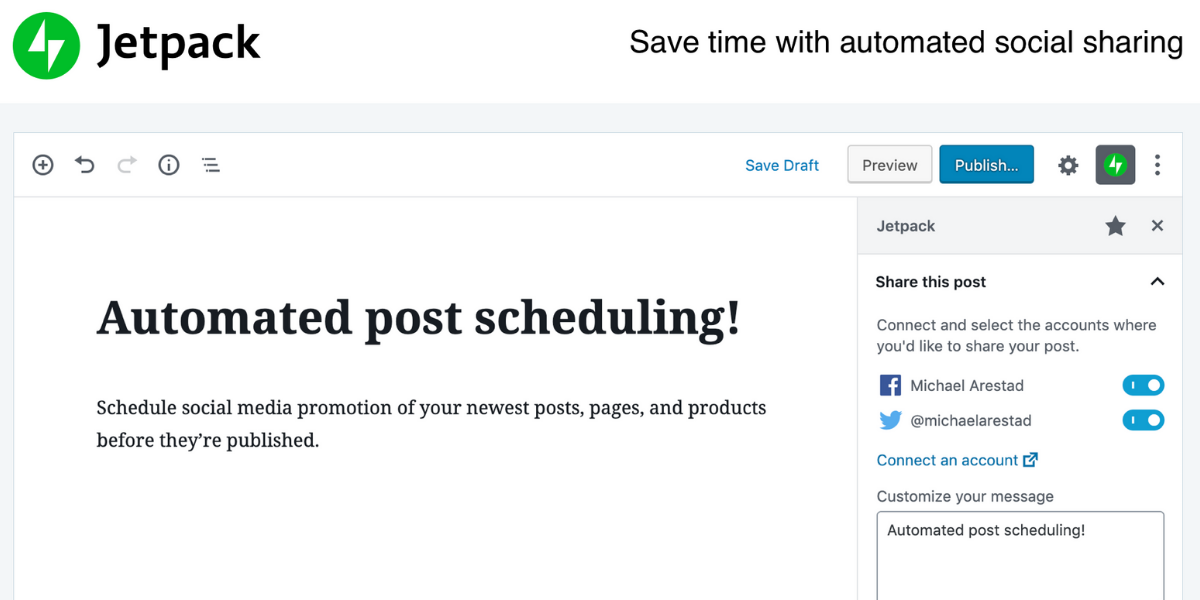 Jetpack is a plugin that is so popular among WordPress website owners and users. It gives you a feature of popular posts, makes your sites safer and faster, and helps you grow traffic. You can find the popular post option under the heading 'Top Posts & Pages Widget' in Jetpack. 
If you are using a free version, you get relatively basic features, which is obvious to expect. It is a complete suite of tools that provide you a complete solution of almost everything like SEO, Back up, Block spam comments, Monitor your site uptime/downtime, and many more. It has around 30 modules, and if you are only looking for popular post plugins, then I won't recommend you to buy it.
How It Works
Install and activate the Jetpack on your WordPress website by connecting your site with WordPress.com. For that, you need to create a wordpress.com account, which is free. 
You can then choose various customization options, ranging from premium themes to conditional widgets and your favorite top post & pages widget. 
However, one limitation only shows those posts in the most popular posts that have received the maximum traffic in 48 hours.
Pros
Cons

Easy to use widget
Provides site stats and analytics
conditional logic inside each widget
speed up your site on mobile devices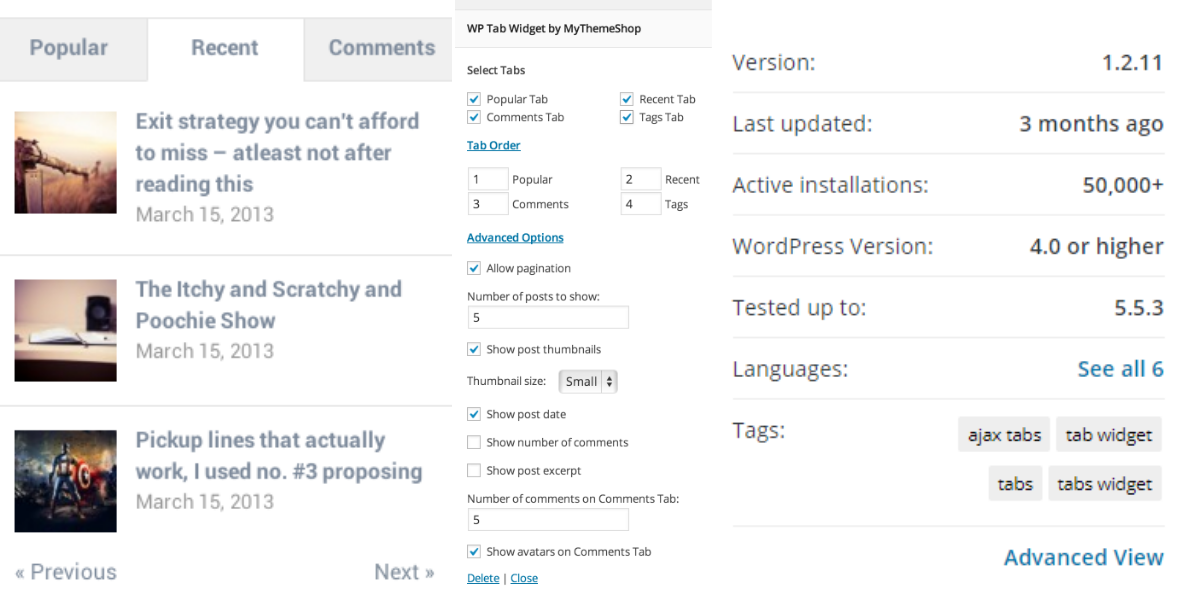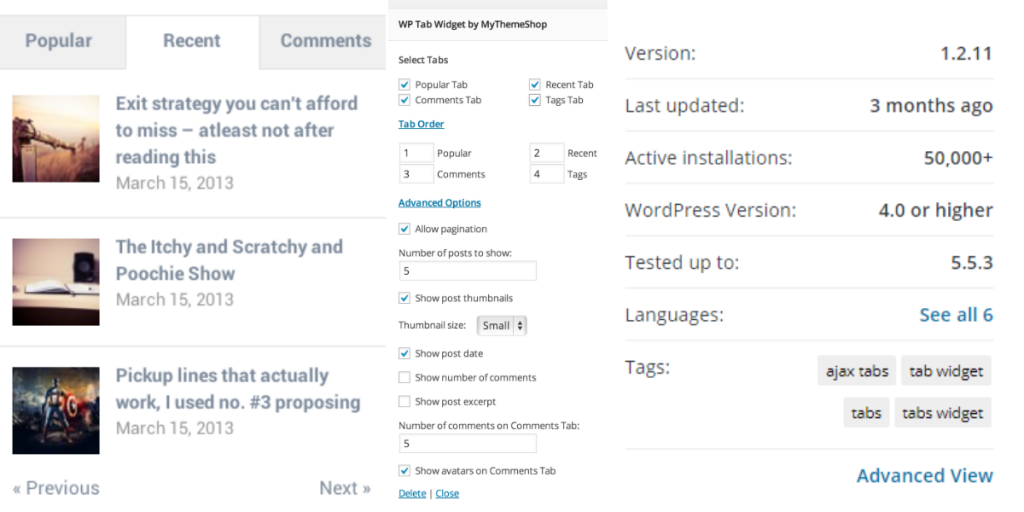 WP Tab Widget plugin showcases easy to navigate and perfect tabs on your blog. This plugin is easy to use and very quickly displays popular posts on your website. It is an all in one, shows you popular content, recent content, comments, and tags in on a single widget. 
The user can switch the tab and read all the mentioned content and post in a single widget. This plugin is incredibly lightweight and loads content only when demanded. As a website owner, you must install this amazing plugging to make your visitors stay longer. 
How It Works
You can simply install the plugin, configure the basic setting like thumbnails, post dates, and excerpts. You can also take control of posts to show, the tabs' order, and that tabs are available. Now you can add a widget by clicking on the appearance section.
There you can select the number of posts to show, title length, tabs to show, and tab order. Once you enter save all the details, it will start appearing in the sidebar of your website.
Pros
Cons

Fully Responsive
Fast To Load
Super lightweight
Show/Hide post date
Dynamic effects
In-built Pagination System

Doesn't Work With Few Themes
Free version Includes Limited Features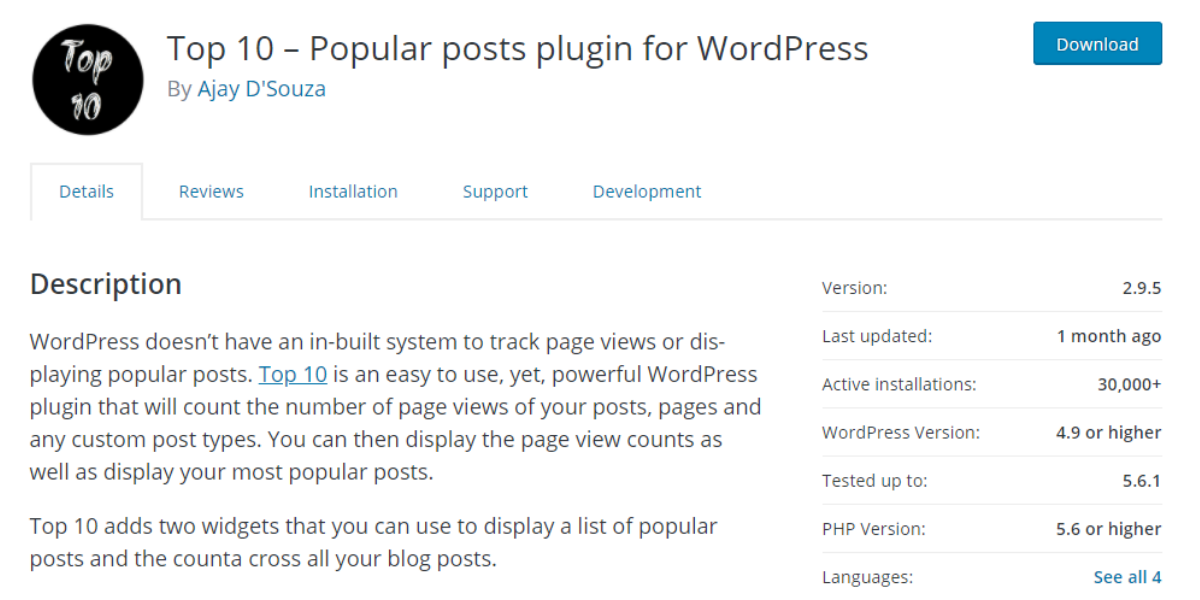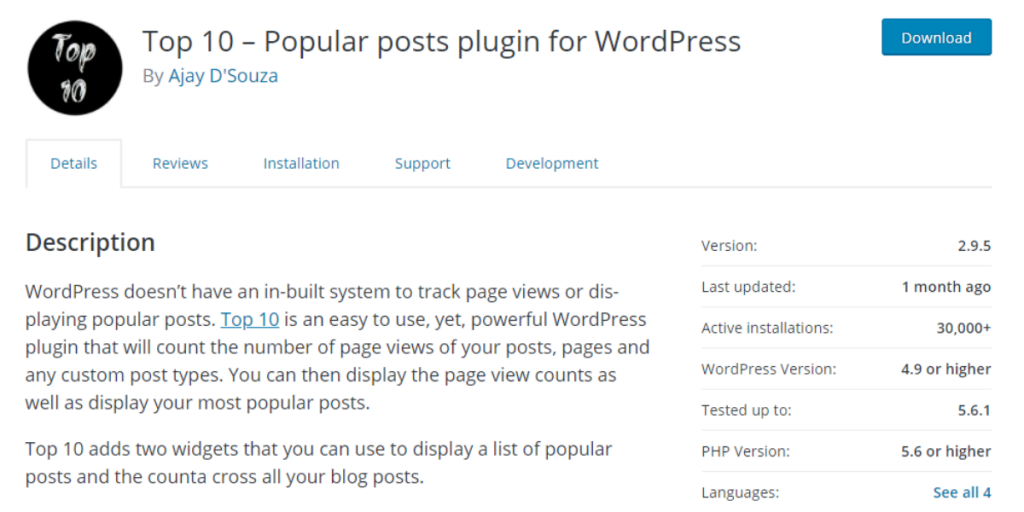 One of the widely known plugins of popular posts for WordPress is Top 10. This easy to use and powerful plugin effortlessly counts your posts and pages' page views. With the help of a few configurations, You can display your most popular posts to your site visitors. 
It adds two widgets displaying a list of popular posts and all your blog posts. Top 10 also supports thumbnails, custom post types, shortcodes, and CSS styles. Also, It has an inbuilt caching system that reduces server load and cleans your database if it is more than 90 days old. 
The powerful API and filters allow you to extend the code base and add new features. You can organize with various customization options how many posts you want to be featured. 
How It Works
Once you install this plugin, Configure settings like post list, thumbnail, and styles. Configure date range, author, post summary, post views, and excerpt. 
Now add a shortcut or a widget wherever you want to feature your popular post on the website. 
Pros
Cons

Flexible and easy to set up
Counts page views on single posts
You can choose no of posts  to be displayed
Displays posts list and number of views
Built-in caching system 

Too many options may confuse beginner
Doesn't fit well with some templates and kills their hierarchy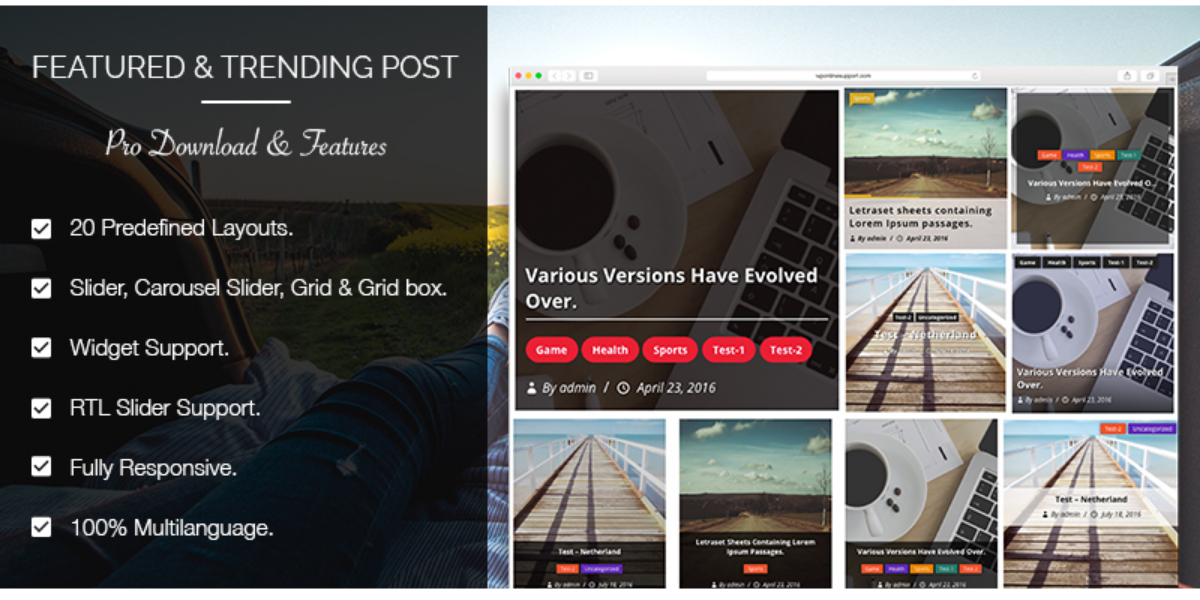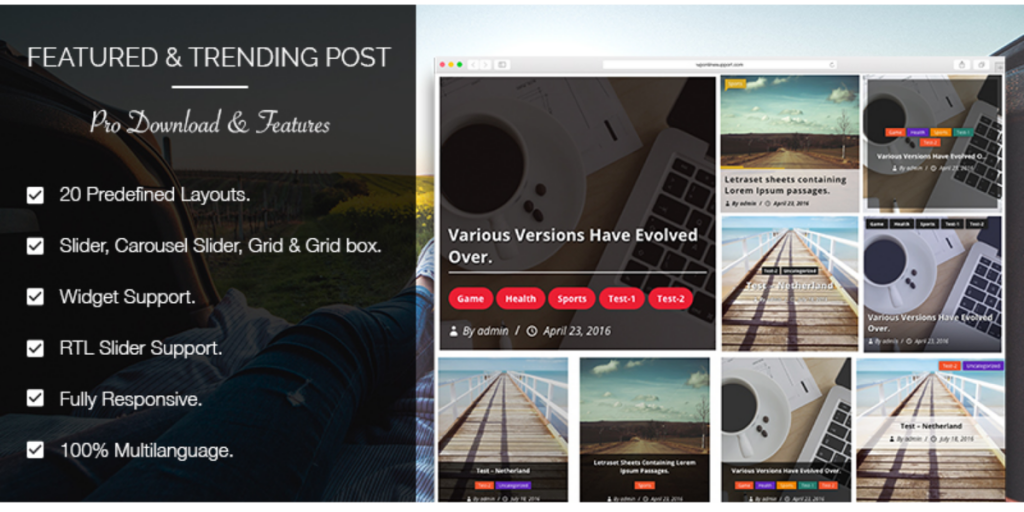 The Trending Post Slider and Widget by WordPress features the most popular and trending posts on your blog, considering the number of posts, views, and comments. You can display your popular post either by shortcode or in a sidebar with the help of a widget. 
Also, different styles like a carousel, block grid, and slider make this section look more professional and grab visitors' attention. This plugin is designed with WordPress standards and allows you to control the slider speed and slider arrows by providing more customization options and flexibility.
Furthermore, it enables you to limit the number of words in a post and show the post author using the shortcode.
How It Works
Install and activate WP Trending Post Slider and Widget in your WordPress through the plugins menu. 
You can add a new page and shortcode to display the popular post in slider view, Carousel view, or Grid Block view. 
Pros
Cons

Various Styles to showcase the popular post
Compatible with Gutenberg shortcode block
Counts and displays comment on each post

Not good to use for trending posts as it has only settings for last day, last Week, or last month.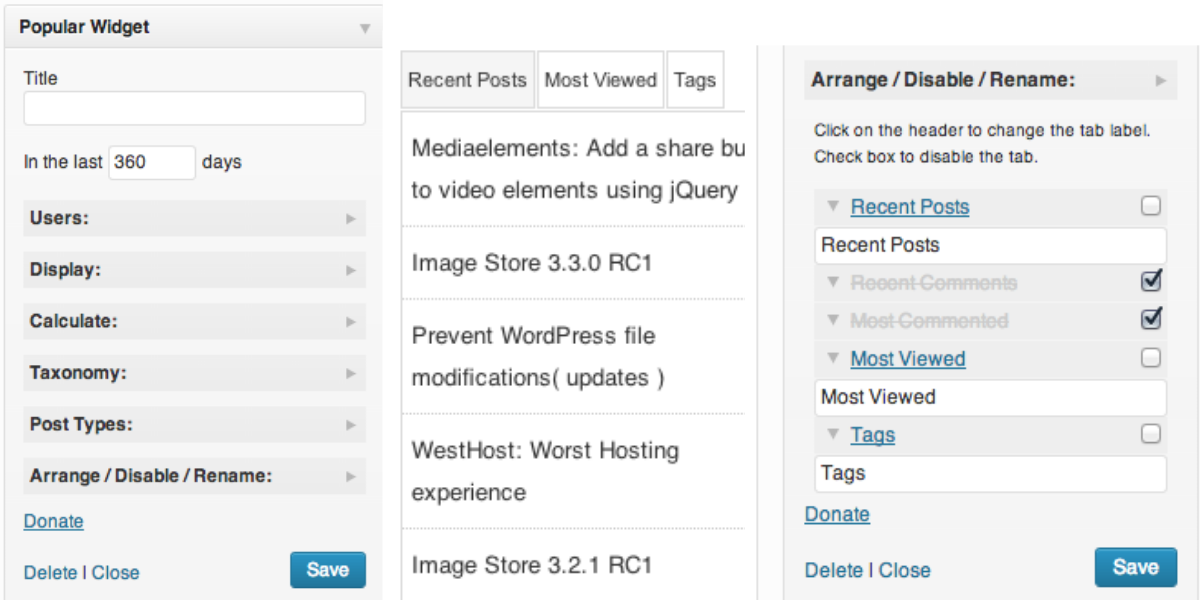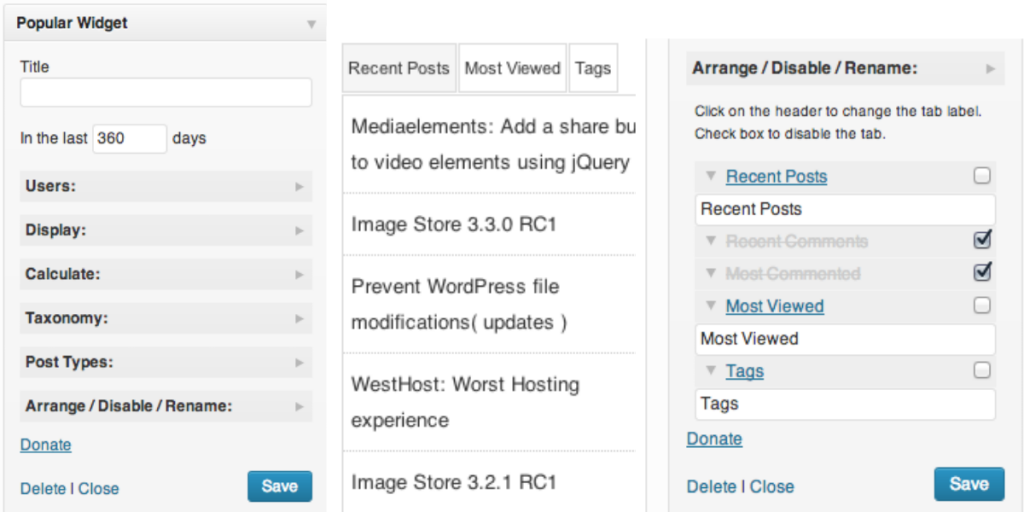 It is a simple and easy to use popular post plugin with unique features to show your popular content with multiple tabs. Popular Widget is the easier one as far in our list. You can conveniently list recent posts or most commented articles along with many customizations like day range, title length, excerpt length, category filter, and many more. 
It also displays thumbnails and recent comments that help you know the popularity of your articles. Furthermore, it has a custom field option to view count and calculate visit or page view.
How It Works
Install the plugin, go to the appearance and look for a popular widget option. It is effortless to use as it does not offer some advanced settings. 
Click on the Display tab and select the number of posts, title length, and excerpt length. Select the tab you want to display on your website, save the settings, and it will appear on your site.
Pros
Cons

Custom field options for view counts
Supports posts, pages, and custom posts types
Option to  include multiple tabs

Comparatively less customization option
Sometimes stop working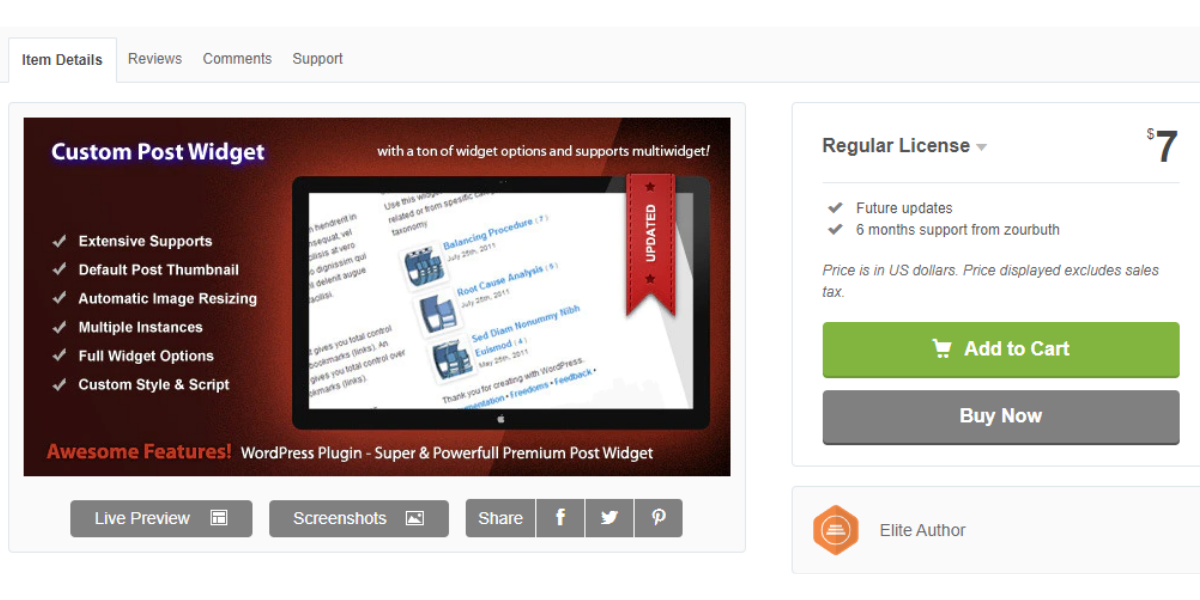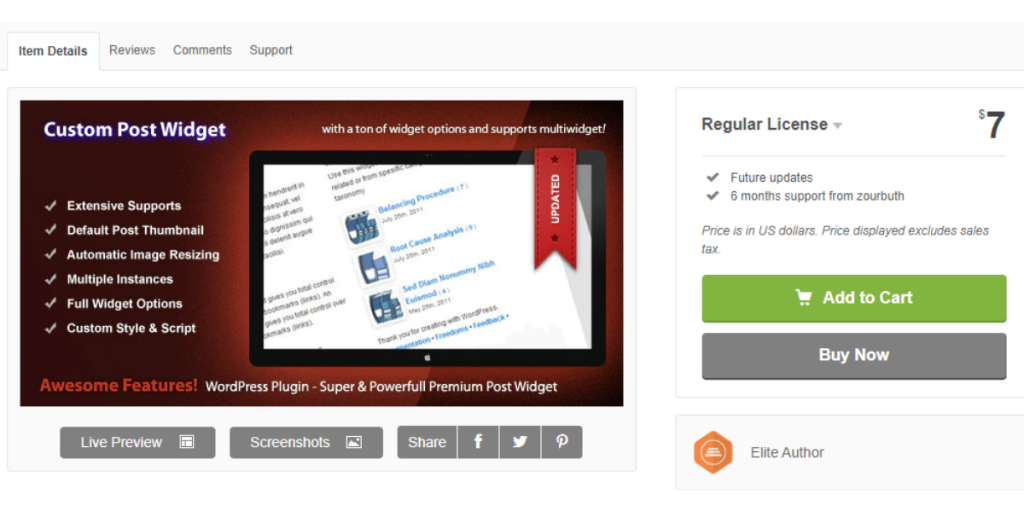 Custom Post Widget displays not only your popular post but also categorizes them based on tags, recent posts, and thumbnails. The highly customizable control panels allow you to add your custom script and style in the section. 
Moreover, in one sidebar space, you can add more than one widget using the multi widget option. It eliminates the need for other plugins to regenerate the thumbnails and re-upload the images. The panel features many options like custom date format, show post author, comments number, and custom icon. 
It also lets you add additional text, HTML, CSS style or javascript for intro text and custom style. Overall, this easy to use popular post plugin is full of multi widget features, but it costs you around $7, so if you are looking for some free plugging, this is not for you.
How It Works
As mentioned, it is paid, so first, you have to buy it and then install it and activate it on your WordPress website.
Find the custom post widget plugin and configure post queries type, date format, and icon, if you want to show post author, thumbnail, and comments number. Save the settings, and it will start appearing on your website. 
Pros
Cons

Easy to use panel
Multiwidget option for detail categorization
3 predefined template styles
Show, hide or adjust thumbnail height and width

Does not fit well to some website templates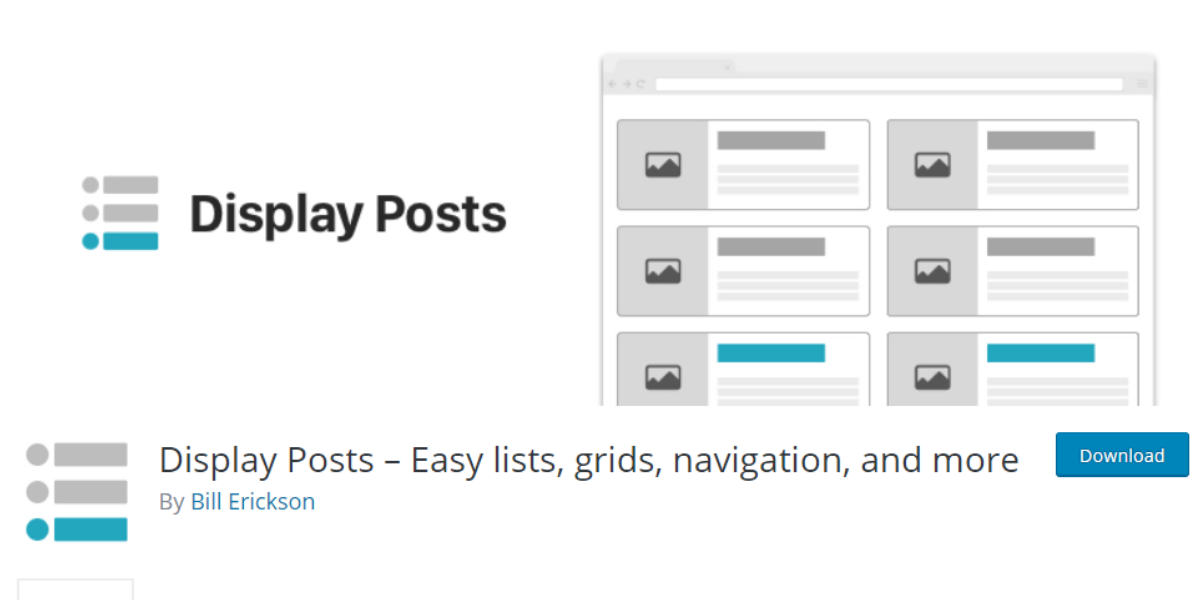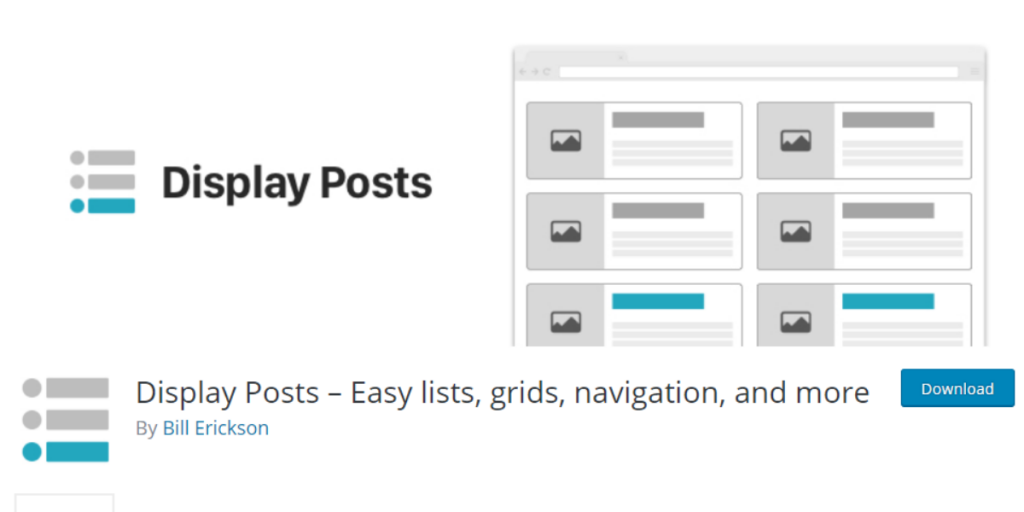 The display posts plugin allows you to show your best content anywhere on your website. The panel looks well explained and simple that you can make the most out of this plugin without putting in much effort. 
The shortcodes can be put anywhere on your website, unlike drag and drop options. Your popular content is easy to highlight in multiple ways, which are based on most commented, most viewed, and most popular. 
Moreover, you can filter the posts by category and display thumbnails, excerpts, avatars, and many more. It is easy to create a good-looking, column-based grid to give a beautiful style to the popular post section.
How It Works
You can install and start by using the shortcode [display-posts] in the content editor. If you want to show posts with a specific category, then use [display-posts category="news"]. 
You can use the shortcode [display-posts orderby="comment_count"] to feature those posts which have the most comments.
Pros
Cons

Easy to implement shortcodes
Provides various extension support
Use any image size added by WordPress
Control on display parameter like thumbnail and excerpts 

It is somewhat confusing for a beginner user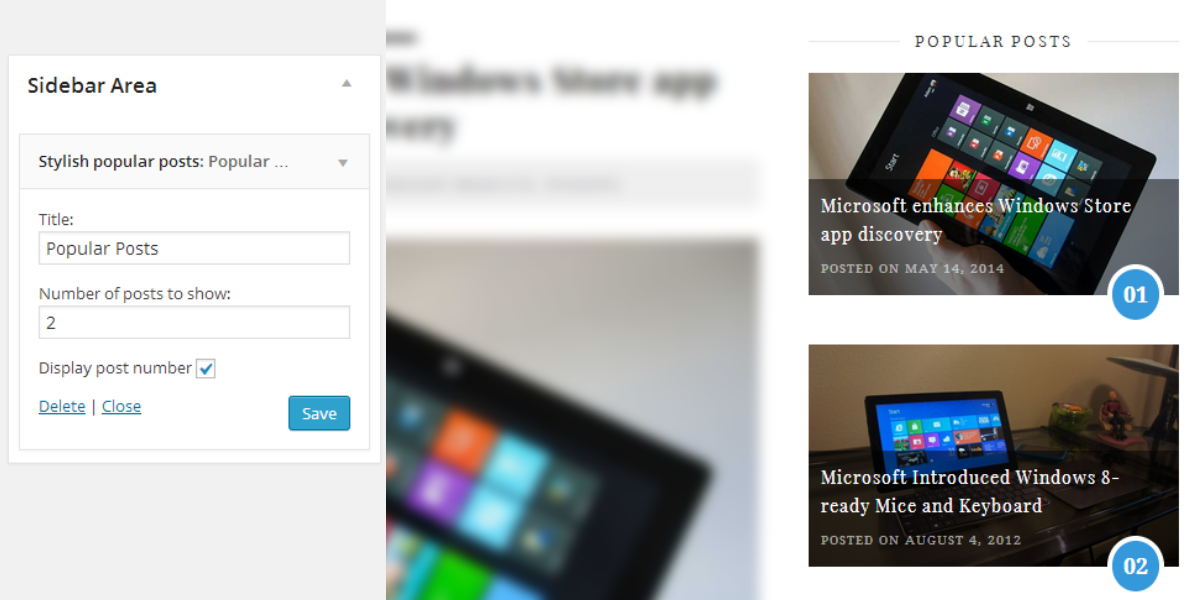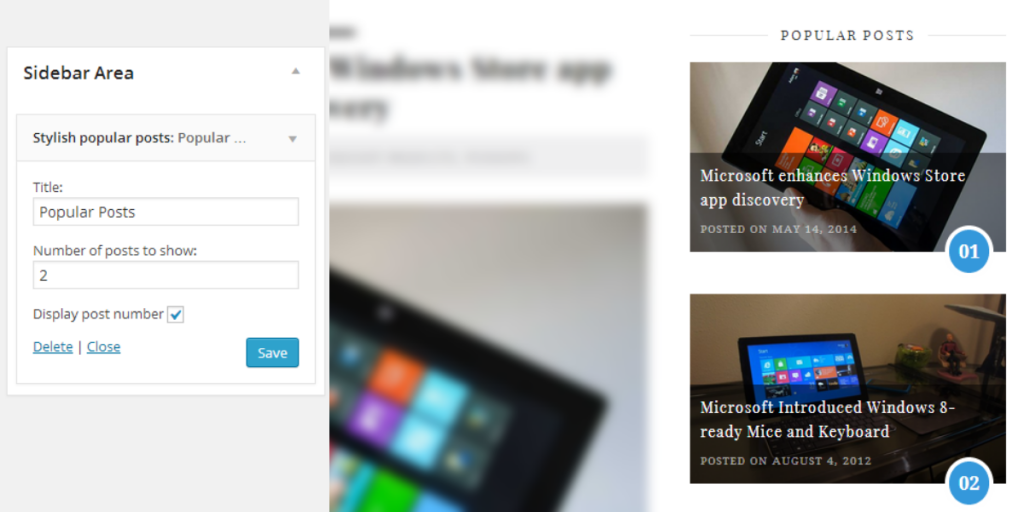 Another popular post plugin for WordPress, the 'Stylish popular Post', can display your best content more stylishly and stunningly. The style enhances the user engagement and helps them know the relevant post for them based on thumbnails, and number of comments. 
In the widget settings, the user can choose the number of posts he wants to display. You can create attractive overlays for your popular post instead of a simple thumbnail and title list. 
However, you cannot show your popular post on the basis of the number of views, which is one drawback of using this plugin. Otherwise, it is super easy to use with drag and drop features and comes with a language translation option.
How It Works
You can either go to the plugins section of your WordPress dashboard and search for stylish popular posts or download it from WordPress.org and activate. 
Now go to appearance, drag and drop the plugin in the widget area, configure the widget with title and number of posts to show.
Pros
Cons

Easy to use and customize
More stylish overlays and section
Smooth translation in different available languages
Regenerate thumbnails for image attachments

No option to show post based on number of views
There's no option to remove date posted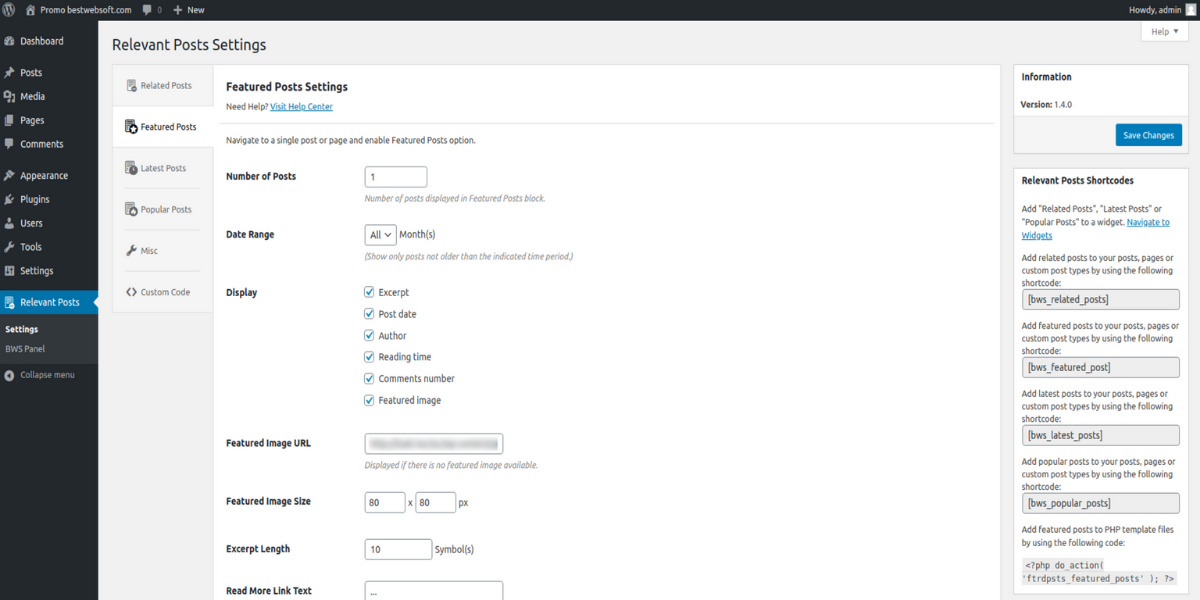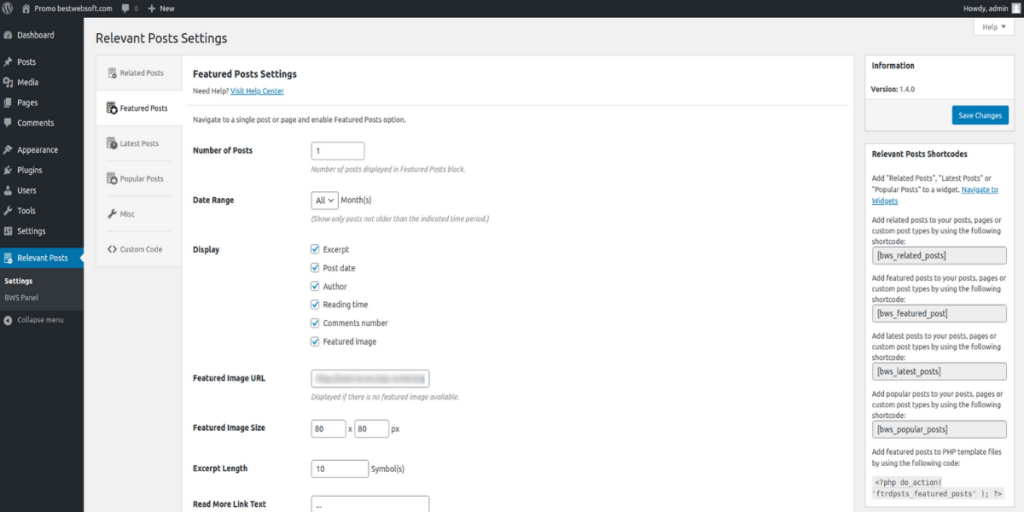 The Relevant offers you the complete functionality for displaying your popular, related, latest, and featured post on your WordPress website. You can highlight the related information and add multiple widgets for each section to be displayed. 
The user-friendly panel allows you to customize widgets, change the appearance and number of popular posts, and much more. It makes your popular post understandable to readers and classifies them on the basis of categories, tags, title, and meta keywords. 
One of the best features, you can showcase the popular, latest, and featured posts at different positions, like before and after content. The best thing, it is free of cost and better than other complicated plugins out there tricky to understand for users.
How It Works
Activate the plugin and adjust necessary settings through your WordPress admin panel. 
Now create a post or page and add the shortcode and add Plugin widgets to the widget area. Now save the changes to appear on your site.
Pros
Cons

User friendly panel 
Easy to set custom size for images
Chose post for a certain category
You can use both shortcode or widget

It does not have an option to display posts for a particular date range.
Sometimes shows incorrect number of visits
 Conclusion
Above, we compared and discussed the 10 best popular posts plugins for WordPress, and I firmly believe that you have heard many of them already if you are not new to using WordPress. 
We have both free and paid plugins on our list. However, I will recommend you to know your budget and requirements, or you may try the free one if you are a beginner. 
All the plugins are compatible with all WordPress themes and are widely installed among WordPress users. I will suggest using WordPress Popular Posts, WP tab widget, or Top 10, as these popular post plugins offer you some advanced features free of cost.